No industry is immune to cyber threats. Economists at Goldman Sachs have warned that some of the top targets for cyberattacks in 2022 will likely include financial service firms, the transport sector, and companies responsible for generating and distributing energy.
Amid tax season, we understand that financial service providers are busier than ever, serving their clients and partners. You may not feel that you have the capacity to research the latest online threats. It might seem easier to leave the topic of cybersecurity entirely in the hands of your IT department or IT service provider.
However, businesses that invest time and education in cybersecurity for all their employees are better protected from whatever comes. To help save you time, we've gathered our top five tips to help financial service providers safeguard their sensitive data from potential cyber breaches.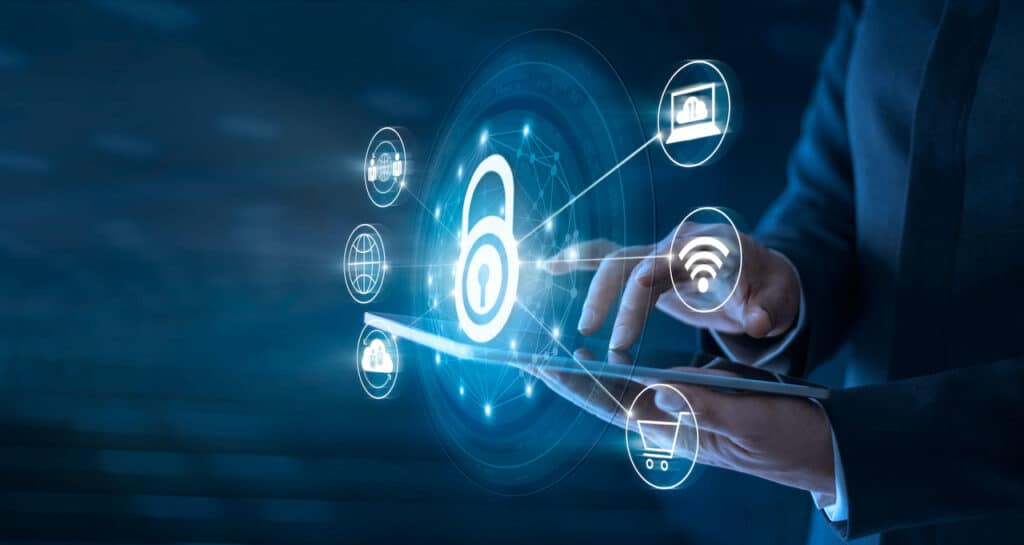 Use a Managed Service Provider (MSP)
If your business already has a small IT team, you might be wondering why you should work with a managed service provider (MSP) to manage your cybersecurity. The answer is simple. Your IT team is likely busy with the ins and outs of your daily business operations. Hiring a dedicated external team specializing in the latest cybersecurity trends will give your IT team a break and ensure that uninterrupted attention is given to your networks.
We recommend using an MSP that offers around-the-clock monitoring, data recovery services, and exceptional customer services. 
Prepare for the Future
New technologies are not as far away as they sometimes seem. Our current encryption methods are sufficient to prevent hackers from accessing sensitive data today. It is important to note that cybersecurity investigators have already reported that digital hackers are stockpiling encrypted data in anticipation that quantum computing will arrive sooner than later.
The ability to use quantum computing would potentially allow them access to millions of currently inaccessible records. While quantum data protection may not be at the forefront of business concerns, the takeaway is to keep future threats on your radar and not wait until it's too late to upgrade your network security.  
Communication With Clients
Regular communication with your clients is essential to your business operations. You probably have a method of regular communication with your clients, whether it's an email newsletter, a physical flyer, or a call list. If you have a newsletter, this avenue of communication is a great place to share security tips that can benefit your clients in their personal online activities and their interaction with your software, applications, and website.
Periodic reminders for choosing strong passwords are examples of how you can use client communication to protect your company simultaneously. 
Use Around the Clock Network Monitoring
Cybercriminals operate around the clock every day of the year. As a financial firm, your client's sensitive information is a treasure trove of data for hackers. Ensuring that you have 24/7 around-the-clock network monitoring can help you keep your networks protected, even while you're sleeping. At Alt-Tech, we can continuously monitor your servers, networks, and infrastructure to keep everything secure. 
Cybersecurity Culture in the Workplace
One of the best ways to ensure your team follows cybersecurity measures is to foster a culture of cybersecurity in the workplace. The more training your staff receives for following procedures, knowing what to do in the event of a data breach, and how to react are essential to your business security overall.
A managed service provider or IT department should be able to run training sessions and answer questions. When your staff feels free to ask questions and report concerns, they are less likely to hide or withhold critical information. 
Cybersecurity Provider in Sherwood Park
Alt-Tech Inc. is your go-to cybersecurity provider in the Sherwood Park and Edmonton area. Our company specializes in cybersecurity and IT services for financial firms to help keep your data safe and secure so you can focus on serving your clients to the fullest. Get in touch to learn more about how we can support you.