What is Microsoft Azure?

Azure is a cloud-computing software that provides data management tools. In other words, it's your own personal online data center, but without all the work and cost that comes with creating and maintaining it on your own.

Azure Capabilities

Azure allows businesses and organizations to use web-hosted applications. The line of Azure products provides a massive suite of capabilities, including:
⦁ Blockchain technology
⦁ AI and machine learning
⦁ Analytics
⦁ Containers (i.e. "packages of code" that run reliably from one operating system to another)
⦁ Databases
⦁ Developer tools
⦁ Networking
⦁ Media and content deliver
⦁ Integration
⦁ Storage
⦁ Security
⦁ Migration

As an example, we can look at Azure's Virtual Machines. These are cloud-computing files capable of activities such as encrypting data, adapting content to various languages, or other workloads that require heavy-duty processing power. Essentially, you pay Microsoft per minute to use these files for processing your data.

Azure is also compatible with open-source technologies, which means that it can be integrated into existing or new solutions. Additionally, other third-party providers can make their applications available through Azure.

SaaS, IaaS, and PaaS Options

SaaS stands for software as a service, IaaS stands for infrastructure as a service, PaaS stands for platform as a service. The difference between these services is the level of responsibility shared by the software vs end-users.

Microsoft Azure offers all three options for organizations. Here is a chart designed by Microsoft to demonstrate the various levels available.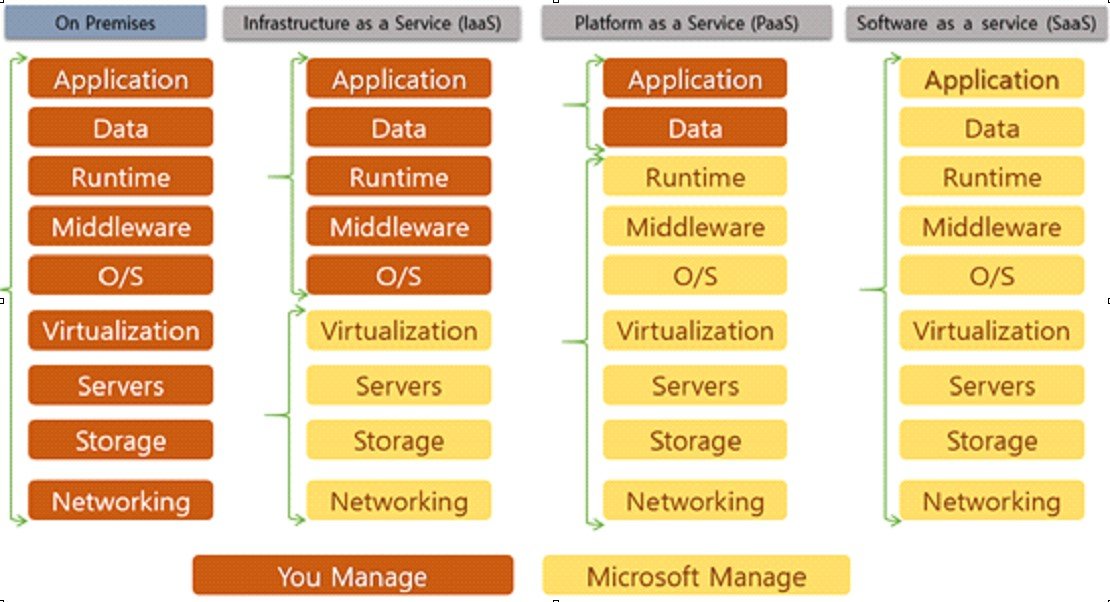 (Source: Microsoft. (Dec 2016) Microsoft Azure and Open Source. https://social.technet.microsoft.com/wiki/cfs-filesystemfile.ashx/__key/communityserver-wikis-components-files/00-00-00-00-05/8420.AzureIaas.PNG)

The level of service you need will depend on who is managing your IT solutions, which in turn will depend on the level of customization you need from applications. IT professionals and developers will typically use IaaS and PaaS because they can build applications, whereas SaaS refers to applications that are accessible by all customers in a single, uniform version. So, essentially, if you require customization in your solutions, you will want to engage a professional IT company to have your solutions designed.



Can Azure Benefit My Business?

One of the main benefits of Azure is that you are essentially outsourcing your physical hardware and platform maintenance costs to Microsoft. Instead of focusing your IT budget on optimizing your hardware and servers, your local IT support team can help you develop solutions that are perfectly fit to your business needs.

Cost is another feature that many users appreciate. Azure is charged on a pay-as-you-go usage system (with certain applications charged based on a tier system). Discounted rates are often offered for longer-term commitments. This means that even small businesses can benefit from Azure. For example, instead of buying and maintaining a server system when only minimal amounts of storage are needed, a company can use Azure's storage and pay based on what they're actually using.

Another benefit is the scalability of the solutions available on Azure. New solutions are being developed continuously on the platform.

Learn if Azure is a Good Fit for Your Business

Azure can be a good solution to traditional IT challenges faced by businesses. If you think it might be a good fit for your business, why not get an expert opinion first? The Alt-Tech team can help you save time, effort, and money when it comes to deciding on managed solutions for your business. We work with Azure products for many of our clients, and we'd be happy to assess your needs and budget.
Photo by Tadas Sar on Unsplash